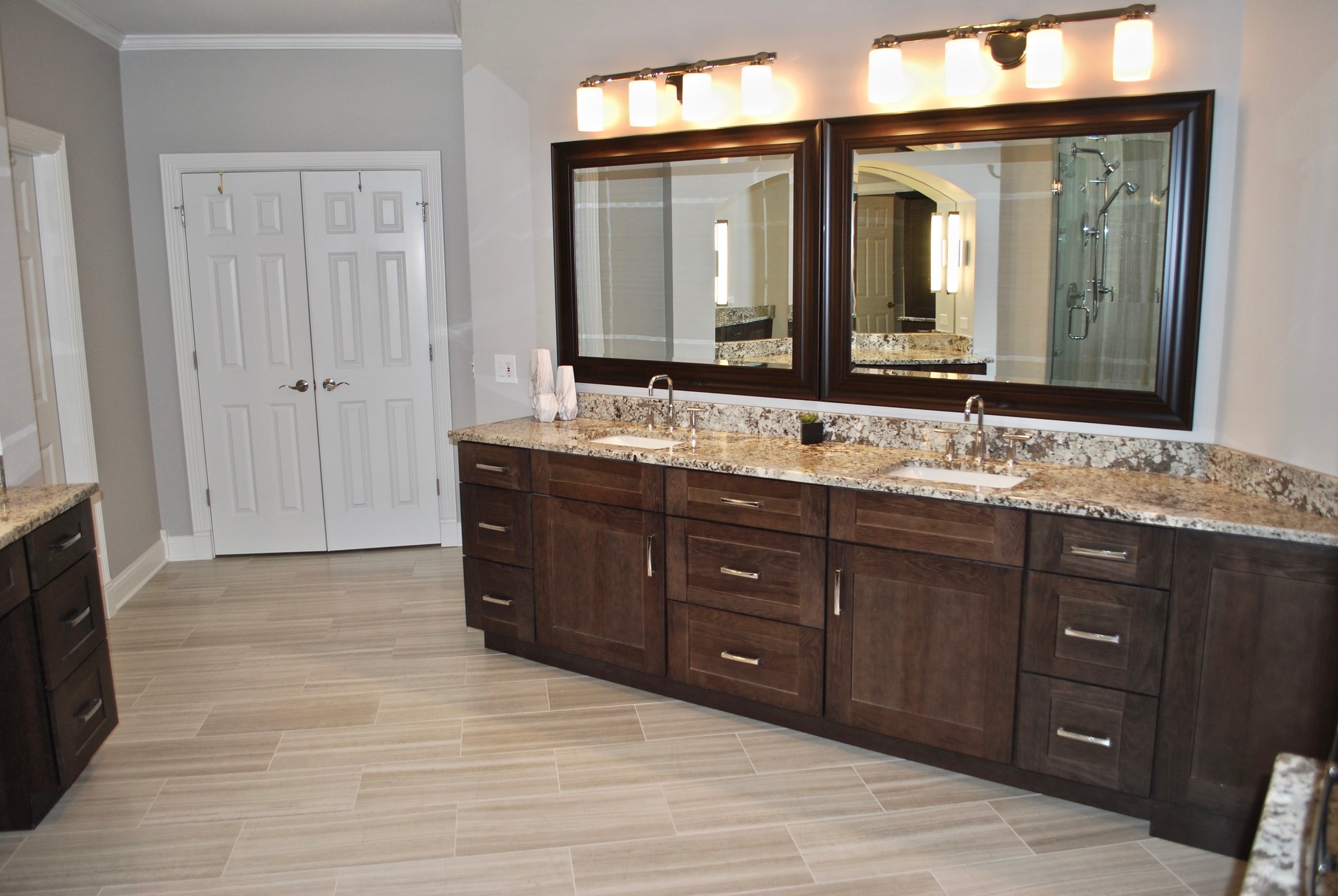 THIS FUN BATHROOM REMODEL IN NAPERVILLE IL. FEATURES A LARGER SHOWER WITH A REMOVED GLASS BLOCK WALL. THE NEW SHOWER PROVIDES MULTIPLE NICHES FOR SHAMPOO, A LARGE BENCH, HAND HELD SHOWER & A SQUARE DRAIN FOR ATTRACTIVENESS.
THE NEW FLOOR IS A 12X24 PORCELAIN TILE MADE TO LOOK LIKE A GREY MARBLE. THE EXISTING 12X12 MARBLE FLOOR WAS POPPING AND CHIPPING. THERE WERE MULTIPLE FIXES BUT THE SUB FLOOR WAS FAILING AND HAD TO BE REPLACED. THE NEW TILE ALSO PROVIDED A TRANSITIONAL BASE FOR THE NEW DESIGN.
THE NEW BATHROOM VANITIES FEATURE A RUSTIC WALNUT STAIN FINISH WITH A GREY HINT. THEY FEATURE A TRANSITIONAL DOOR STYLE AND THEY REPLACE A WHITE LAMINATED PLASTIC CABINET FROM THE EARLY 1990'S… ALSO GRANITE REPLACES THE OLD CORIAN COUNTERS WITH PINK INLAY…
WE ADDED CHAIR RAIL & BOXES IN THE TOILET ROOM AND PAINTED THE WAINSCOTING TRIM WHITE. WE ALSO UPGRADED THE TRIM IIN THE BATHROOM FROM SMALL TO EXTRA LARGE. THE ADDED COFFEE STATION IS GREAT TOWEL STORAGE AND FILLED A UNUSED SPACE.
THESE HOMEOWNERS WERE PREPARING THEIR HOME FOR SALE IN A FEW YEARS AND WANTED TO ENJOY THE HOME REMODELING A FEW YEARS BEOFRE THEY SELL. REMODELED HOMES SELL FASTER IN ILLINOIS THEN OUTDATED ONES! CALL SOUTHAMPTON TODAY FOR A FREE QUOTE ON YOUR KITCHEN OR BATHROOM REMODELING PROJECT.
BATHROOM RENOVATIONS & UPDATING IN NAPERVILLE IL. REMODELING BATHROOMS & KITCHENS FOR OVER 30 YEARS. SOUTHAMPTON IS A GENERAL CONTRACTOR WITH CUSTOM HOME EXPERIENCE AND AN AFFORDABLE REMODELING PROFESSIONAL. WE SERVICE NORTHERN ILLINOIS AND ARE LOCATED IN THE FOX VALLEY TOWN OF GENEVA IL.